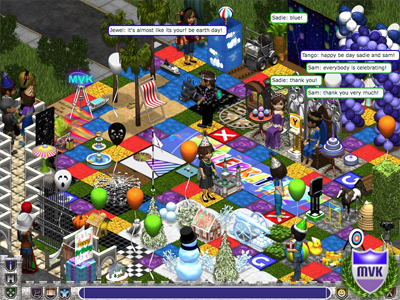 On November 1, 2015, we held our 200th and final Staff Event. Even though we are no longer hosting events, that won't keep you from being able to play them! Areas all over the Kingdom are home to the many Staff Events and Best Game Events that you've come to know and love.
Here are the rooms and their locations:
Fairgrounds Event Center – Located at My Town's Fairgrounds.
Holiday Chateau – Located in the left building at Christmas Corner.
Penthouse – Located on the top floor of The Century Hotel.
Pixie Glade – Follow the sign in Garden Entrance.
Spur City Bank – Located at Stagecoach Junction.
Squire's Turret – Climb the turret stairs in Acantamis Archery Game Lobby.
Studio Backlot – Follow the sign on Wood Boulevard in Holly Street Corner.
Traveler's Booth – Board the bus at Corner Crossroads.
Treetop Terrace – Follow the sign in Cataloging Tent.
Current Staff Event Prizes by Location:
Current Staff Event Prizes: