Token Machines are located in each MVK Realm.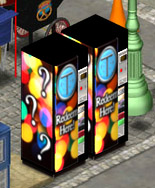 Tokens - Tokens are special items in MVK that allow you to activate Token Machines. You can see how many Tokens you currently have by looking in the Balance tab of your My Stuff window.
Using a Token - Each Token Machine requires a Token from the Realm it is located in. For instance, the My Town Token Machine can only be activated by using a My Town Token. To activate a machine, simply double click on it.
Prizes - After you use a Token, you get a chance to receive a prize. If you are lucky, you might receive a furniture item or pin!